The average hiring manager only spends six to seven seconds reviewing a resume. Because of this, you will need to impress them fast if you want to be shortlisted for an interview. To increase your odds of being selected, it's essential that you put your best foot forward with a bulletproof CV. But how can you make your CV stand out? One of our consultants, Alanah Chambers, shares her top four CV tips below:
CV TIP #1: Quantify your achievements 
Future employers are interested in the value that you can bring, evident by the impact you've made before. So don't just list your responsibilities and job duties; showcase your accomplishments, in numbers and percentages if you can. For instance, if you revamped the segmentation model of the customer database and that led to a 20% increase in marketing campaign response, mention it!
Whether you list it as a key achievements section or weave it throughout your role summary, this is something that instantly catches my eye as a recruiter, and is something employers love to see.
Don't end up like this picture: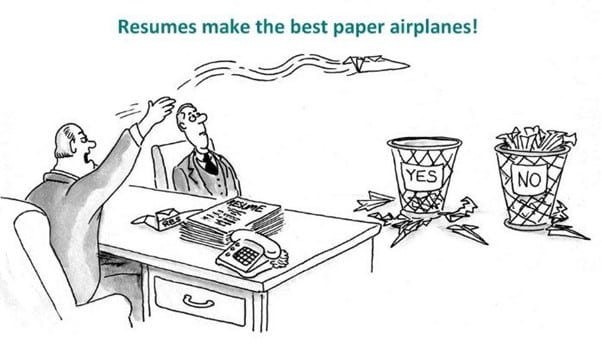 CV TIP #2: Buzzwords
Now I know some people think this can go overboard, but personally, I love these. Don't put them in for the sake of it, but where applicable, use industry-specific keywords, whether pulled from the job spec or that you know are skills in demand on the market.
Use keywords that are relevant to your area within the data analytics industry
If you've done core projects, make sure you title them properly!
Clearly highlight your skills, both technical and soft
Why?
This is two-fold, whether you're appealing to recruiters like me or trying to get through online applications. As a recruiter, we look for those key projects and skills to determine whether we'll progress to a call. However, some businesses try to save time by using filters and automation through using Applicant Tracking Systems.
In short, using keywords optimise your CV and will increase your chances of getting past the initial screening process and into the hands of a human recruiter and onto the phone with them.
CV TIP #3: CV length
This is an interesting debate amongst the talent community, and it can depend on the industry for how long your CV should be. As a data analytics recruiter, in my opinion, two pages is enough. I'd say an absolute maximum of three if you've got plenty of experience.
Here's what I recommend:
Keep it concise and relevant
Focus on highlighting your relevant skills and experience
Tailor your CV to the role you're applying to
Utilise the other tips like keywords to ensure you pass the first scan!

Some other tips and pointers I want to raise:
A one-page CV only works if there's minimal "fluff" on there – make the most of all the space, ensure it's relevant, and still easy to read by a hiring manager/recruiter having a quick scan over it. But on the flip side, if you have plenty of experience and achievements, don't sell yourself short by trying to condense too much.
Don't include things like:
❌ "Your objective" – that's clear, you're applying for a job!
❌ Your entire life story, or every job since you had a paper round – remember, relevancy!
❌ Your jobs from before your career, like when you were a pot wash, glass collector, or barista
❌ Loads of info on how you did Duke of Edinburgh or the NCS program – does anyone ever remember these things fondly?
CV TIP #4: Add a bit of personality to it! 
Some people are maybe a bit against this, but I personally love it when candidates include a bit about themselves and give a taste of who they are.
In my opinion, in this day and age where work-life balance is so important, our interests outside of work can be really defining for who we are, so it's great to showcase all of you, and what you bring to a role.
Things you can include to showcase a bit of you:
Your creative hobbies – from crochet to dance to watercolour, these hobbies demonstrate your ability to think outside the box and come up with innovative solutions!
Volunteer work – shows your commitment to giving back and making a positive impact.
Language skills – not just a valuable asset in today's global economy, this shows that you're adaptable and open-minded.
Travel – if you've travelled extensively, it can demonstrate your cultural awareness and ability to thrive in unfamiliar environments.
Why do I recommend this?
These give potential employers a glimpse into your passions outside of work and who you are
They make you stand out in a sea of similar resumes
It's important to be yourself, not anyone else!

Are you looking to progress your career in the data space? For market insights into the current market, information on job opportunities, and advice on your CV, get in touch with someone from our team today.