Associate Director of Market Research
Virginia Beach, Virginia / $140000 - $150000
Associate Director of Market Research
Entertainment and Attractions
$140,000 - $150,000
Virginia - Hybrid
A leading US Market Research Agency is looking to add talent to its analytics division and in doing so is actively hiring an Associate Director of Market Research to join its team in a hybrid capacity. This individual will successfully drive strategy, provide market insights and work in a hands-on capacity to enhance the organization's marketing efforts.
THE ROLE:
As an Associate Director of Market Research, you will be responsible for driving marketing strategy for the benefit of clients, providing insights surrounding the locality, competitors, and consumer demands, and conducting strategic research projects/questionnaires.
Furthermore, this is a highly visible role reporting directly to both the marketing director and the head of consumer insights. Within this role, you will be working predominantly utilizing technical tools such as SQL, Qualtrics, SurveyMonkey, Q Analysis, and a Visualization tool of Choice.
You will also be responsible for leading an agile team of junior market researchers.
SKILLS & EXPERIENCE
Bachelor's degree in a relevant field is required, Masters is strongly preferred but not required.
Extensive technical proficiency utilizing SQL, Python or R in a professional capacity.
Ample experience working in a marketing-focused background with a focus in the provision of insights and recommendations.
Entrepreneurial spirit and capabilities to work in an Individual Contributor capacity.
Strong communication abilities with a core focus on the ability to translate technical information to non-technical stakeholders.
Prior experience creating and presenting dashboards through the use of a best-of-breed visualization tool such as PowerBi, Tableau, Looker etc.
BENEFITS: Associate Director of Market Research
As an Associate Director of Market Research, you will have the ability to earn up to $150,000 base salary and gold standard benefits.
HOW TO APPLY
Please register your interest by sending your Resume to Oisin Ennis via the Apply link on this page
KEYWORDS
Consumer insights Manager, Consumer, Insights, Marketing, Market Research, Excel, SurveyMonkey, Visualization, Dashboard, Entertainment, Analytics, Attractions

Why Should You Care About Data-Driven Marketing? | Harnham Recruitment post
Marketing has been undergoing a fundamental change for some time. Elite marketers have been rethinking and reiterating their strategies, using increasingly sophisticated data.  and this trend has been further accelerated by the pandemic.Consumer behaviour has changed significantly since the pandemic began. Between March and August 2020, 70 per cent of consumers tried new digital shopping channels. Such significant changes have rendered many existing data models invalid. Data-driven marketing offers new insights into consumer behaviour and can render huge impacts in refining and enhancing marketing strategies. So, why should you care about data-driven marketing? Offers better clarity about the target audience 67 per cent of lead marketers agree data-based decisions beat gut instinct. Data-driven marketing allows marketers to quickly filter through data and determine the most relevant and accurate action to take. With the right data, marketers can assess customer data to predict behaviours, identify buying patterns and spot emerging trends. Data-driven marketing can also reveal new channels and open up new avenues which organisations can use to engage with audiences and increase revenue. Increases revenue The last 18 months have been tough for businesses, yet through the use of data insight, marketing teams have been able to get ahead of emerging trends. Data-driven campaigns have pushed significant customer acquisition. Better insight into consumers and the channels they use enables organisations to improve their marketing strategy. Indeed, companies that deploy data-driven marketing are six times more likely to remain profitable year-over-year, and 78 per cent of organisations agree that data-driven marketing increases customer acquisition.PersonalisationIn the modern world, advertising is everywhere, and it is endless; consumers see it on their phone, their TV and even on their way to work. Without target advertising campaigns, organisations risk aggravating consumers. 74 per cent of customers already feel frustrated by seeing irrelevant content from brands. To stand out, marketing channels have become more complex. Marketers need to remain creative to capture consumers attention and data driven marketing can help achieve this.Data-driven marketing allows businesses to target specific demographics and user groups at an individual level. By targeting specific user groups at an individual level, marketers are able to use personalised marketing campaigns to build stronger and more meaningful connections with potential customers.With individual customer information, brands can segment a target market and ensure personalised messages are falling into the right place. Data-driven marketing is also able to identify potential customer triggers and create a holistic view of the target audience. This style of personalised marketing campaign makes for a more positive customer experience, and therefore represents excellent return on investment.Data has the potential to become an incredibly valuable resource in marketing. Data soothes the pain points which many marketers face on a day-to-day basis, and help teams to refine, enhance and improve strategy. In a post-pandemic world, data-driven marketing will undoubtedly be essential. To stay competitive, internal marketing and insight teams need to start taking notice of data-driven marketing. Here at Harnham, we understand the importance of data-driven marketing to determined campaigns and guide decisions. So, if you're looking for your next opportunity or to build your Marketing & Insights team, we can help. Take a look at our latest marketing and insights jobs or get in touch with one of our expert consultants to find out more.  

Why Marketing Teams Need to Fill Their Data Skills Gaps
Data can be leveraged in a myriad of ways and be beneficial to numerous business functions.
In marketing, for example, data is playing an increasingly important role in helping brands get closer to their target customers, which ultimately improves the bottom line. Businesses that use data-driven marketing strategies have five times more ROI than those that don't.
Despite this potential, a new survey has revealed that data analytics is one of the biggest skills gaps in marketing departments. Below, we break down this new research and explain why it's crucial to fill your company's data skills gap and build a data-driven marketing team.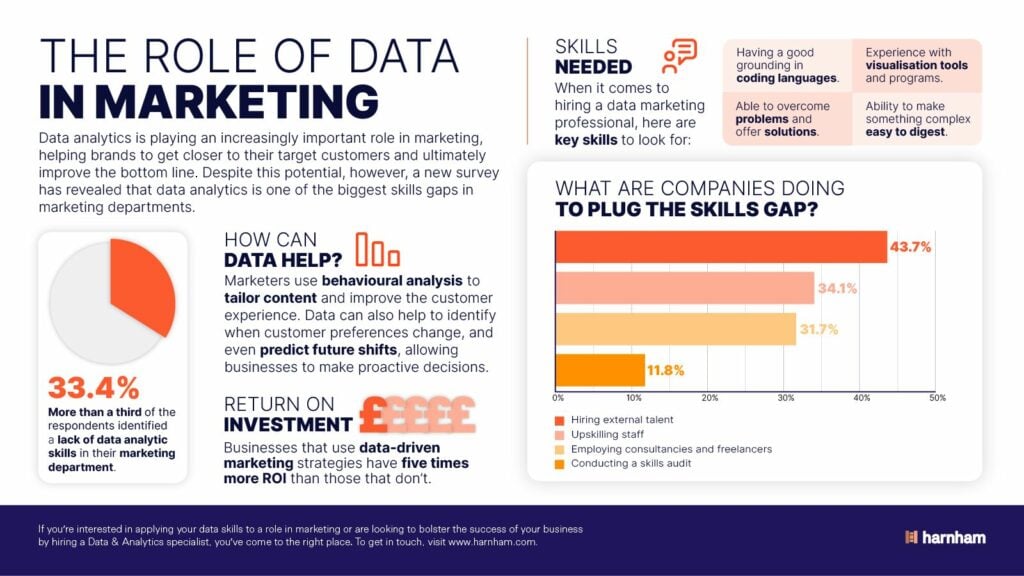 So why does this skills gap matter?
The recent research revealed more than a third (34.4%) of the 3,000-plus respondents identified a lack of data analytic skills in their marketing department. For B2B marketers, the figure drops to 29.9 per cent, while it's 34.6 per cent for B2C marketers, and jumps to 39.6 per cent for businesses with a mix of both.
These findings are particularly pertinent as marketing isn't a department that operates within a bubble, rather it has its tendrils in every part of an organisation, so when marketing isn't functioning as optimally as possible, neither is the business.
Businesses that are not harnessing the insights that data analysis offers, are missing out on the ability to understand and meet their customer's preferences. Making decisions that are not grounded in data means that a business is operating in the dark – throwing ideas at the wall to see what sticks rather than already knowing what will work because the data has told them so.
Many companies have realised that it's no longer good enough to guess what customers might want or need from a product or service, but to instead have hard evidence to back up these choices. A data-led marketing strategy can revolutionise marketing efforts in numerous ways such as:
Behaviour analysis and personalisation
By analysing a customer's behaviour, such as their e-commerce and website browsing habits, marketers can ensure that the businesses' landing pages, calls to action and other marketing tools are working as they should be, and use this data to better tailor content and improve the customer experience.
Behaviour analysis might include examining customer interactions, such as where and when they click on a website, even down to which pages consumers are lingering on for longer. The content you are producing might be incredibly insightful and smart, but that's irrelevant if customers aren't reading it. Once you have understood where people do and don't spend time and which content attracts the most engagement, assets can be shaped to scoop up people who might otherwise leave a site, further entice already interested parties and inform other marketing activities.
For example, if you're a business that sells clothes, you can use data analytics to determine which colours and styles are most popular among your customers and create content such as fashion tips or trend reports including these colours and styles.
Through monitoring the current behaviour of customers, businesses can also more easily identify when and how their preferences change. For example, if visitors to written pieces are dropping off, you could consider incorporating more video content. Reacting to the subtle changes in customer behaviour can help companies to maintain their position in the market and increase their revenue by tapping into new pools of customers.
Predicting customer patterns
But data isn't just for making better in-the-moment decisions. It can also help to pre-empt future customer behaviour, allowing businesses to make proactive decisions based on previous trends, rather than acting reactively.
Predictive analytics is the use of data algorithms and techniques to define the likelihood of future events or results, based on historical data from customer habits. It allows marketers to forecast a customer's "next move", such as which consumers are most likely to buy again, and therefore prioritise customers.
Based on previous patterns of behaviour, businesses can predict website engagement points where, for example, a customer may convert, but also areas where consumers might lose interest or drop off – friction points such as filling in a form. This information enables businesses to make choices that ensure that the customer experience is as smooth and effective as possible.
How can this skills gap be filled? 
The effectiveness of data analysis is dependent on talent being able to carry it out. At Harnham, we specialise in data hires for marketing. In other words, through experience, our consultants have built a comprehensive picture of what marketing teams need when it comes to data marketing talent. When it comes to hiring a data marketing professional there are a wealth of skills to look for, including:
Being a problem solver – a candidate who can identify logical ways to overcome problems and offer solutions.
Having a good grounding in coding languages such as SQL. Whilst it can be beneficial to have more advanced modelling skills using R or Python, some companies will have data science teams to support on this side.
Experience with visualisation tools and with programs such as Tableau or Looker – which can be hugely valuable in hitting the ground running.
Most crucial, however, is the ability to tell a story with the data and make something complex easy to digest. During an interview, businesses can identify how someone translates recommendations and if they are able to recognise and illustrate the commercial impact that their work will have.
If you're interested in applying your data skills to a role in marketing or are looking to bolster the success of your business by hiring a Data & Analytics specialist, you've come to the right place contact our team today.

The German Market: Businesses Need To Adapt Or Miss Out On The Best Tech Talent | Harnham Recruitment post
After moderate market movement in the spring, the tech recruitment market in Germany is seeing more significant movement now, as businesses align their budgets and headcount for 2022. But there remains a real shortage of tech talent in all parts of the sector, from Data-Science and Software Engineering to Data Intelligence and Marketing Insights.Recent research conducted by the Berlin office highlights that hybrid and remote working options, as well as growth and upskilling potential, are the most important deciding factors in the German job market right now. The only distinct difference between those surveyed was in long term financial incentives – men preferred a workplace bonus, women regard a workplace pension and insurance benefit as a bigger priority when considering a job move. That aside, flexible working and maintaining a good work-life balance are set to stay. In this respect, Germany faces a particular challenge as culturally, onsite teams and face-to-face working relationships have always been of high importance to efficient operations. In addition, many players need to rely on a hybrid working model asking employees to come in at least some of the time which is additionally challenging due to the remote location of a lot of companies. Added to this, the country specific issues that Germany faces are likely to present ongoing challenges as we move into 2022. Germany has the broadest range of company type, size and structure in the world and the wide cultural and ethnic diversity creates a non-homogeneous market with micro-markets that need a bespoke approach when it comes to tech recruitment.Big Businesses slow to react The speed at which German businesses can react to environmental change is affected by high employee participation in Trade Unions and works councils (Betriebsräte). Change can be slow, even under normal circumstances, regardless of how much or fast leadership want to act. Listed businesses find it difficult to turn the ship around quickly. The logistical challenges combined with the need for larger organisations to shift their cultural mindset and tech environments are significant barriers to change.At the other extreme, however, SMEs that are much more agile and flexible are seeing this time as a real opportunity to attract the best tech talent, many of whom were more interested in the stability of roles in larger organisations. But times have changed, people want more control over their working conditions and greater transparency regarding outlook and overall company strategy when it comes to the data journey. More than ninety per cent of German businesses are SMEs (the highest ratio in the world) which makes the recruitment market exciting right now. It continues to be a candidate led market. The pandemic effect on BusinessEmployers were affected differently during the pandemic. Tech service providers, e-commerce businesses and retailers that already had online sales operations saw business go through the roof as consumer behaviours changed and shopping migrated online. Digital Marketing and Data Insights roles were in demand as retail businesses scaled up in response. This huge growth combined with the shortage of candidates as those in secure jobs sat tight.  Those that did move, became quicker in their decision-making. Where we were used to seeing a steadily moving market, candidates taking their time deciding whether a role might right for them, things sped up.  Work-life balance, location and job security were all major factors in the market, so those smaller, more agile clients that were quick to offer these things became very attractive to candidates who might have otherwise taken their time.Businesses that are less invested in their tech infrastructure or failed to upscale the backend were hit particularly hard.  Some innovative start and scale-ups providing solutions at the point of sale such as hard- and software, went into hibernation. Where previously data architects and data engineers were not regarded as critical to business growth due to a focus on adding features and growing the userbase, are now quickly becoming integral to operations.  Now the exponential growth phase has plateaued, the last 6 months has seen businesses investing in data initiatives to transform their operations. Those strategic businesses with the foresight to address this were able to weather the storm, those that did not faced real pressure, some even went into liquidation. The tech start-up space has been largely dormant as venture capital and private equity was hard to come by. We expect to see that pivot both in response to the pandemic spawning entrepreneurs and as gaps in the market for digital solutions are realised. Future-ProofingHaving taken stock, and with lessons learned, those businesses that have survived the pandemic are future-proofing, investing in data initiatives around more robust infrastructures. Data Engineers, Software Engineers, DevOps and platform teams are high in demand and the recruitment market is running hot. The more classic customer-focused roles are also being advertised – Data Scientists, Social Media Analysts, Multi-Channel Marketing, Data Insights.New Roles in TechAs mentioned by my Nordic colleague Amanda Snellman there is an interesting evolution in tech. Brand led businesses are looking to their marketing teams to find ways to maintain a competitive advantage in the market are actively seeking talent to bridge the gap between Data and Marketing where candidates can speak the language of both disciplines. This is one of the more positive outcomes of the pandemic – silos are being broken down and operations are moving towards multi-disciplined product teams that are charged with budgets and responsibilities. These hybrid roles (Data Managers, Product Managers, Product Owners and similar) are falling out of the need for candidates who can understand the analysis, see the potential data can have in responding to consumer needs and who are able to transform those insights into actionable measures that can move businesses forward in a meaningful way. Data Scientists and Analysts who have a real understanding of what data can do to solve consumer problems and help a business grow.  The Ripple EffectThe ripple effect of the pandemic will be felt for years to come. Currently, businesses are reacting out of necessity. The pandemic has resulted in many data initiates being prioritised. Those tech projects which may have taken several years to reach the top of the business agenda are now a huge focus. Communication is easier, and online meetings facilitate decision-making. But with home and work lines becoming more blurred and employees being looped in 24/7 the next pandemic may be burnout. Is remote working here to stay?Absolutely yes, despite the downsides. There is a slow realisation that if there is an internet connection, and a candidate can work, they can be based anywhere. Big businesses need to get on board with that to secure the best talent. There has always been remote working in tech and German businesses have long looked to other countries to fulfil their tech recruitment needs. Change was already happening; the pandemic has just exaggerated the curve. How can businesses make themselves more attractive in 2022?Going into 2022, choice will be key. Candidates have been in short supply for some time and as the German market approaches year-end this remains unchanged. As always, we continue to be selective in who we send to interview, which our clients appreciate, and most we put forward get to interview. Once at this stage, if hiring managers be open-minded to candidates' requirements and respond accordingly then there will be measurable success in recruitment. The candidate led market is here to stay for some months yet.Looking to build out your data team? Get in touch with one of our expert consultants. Looking for your next opportunity? Check out our Data jobs in Germany.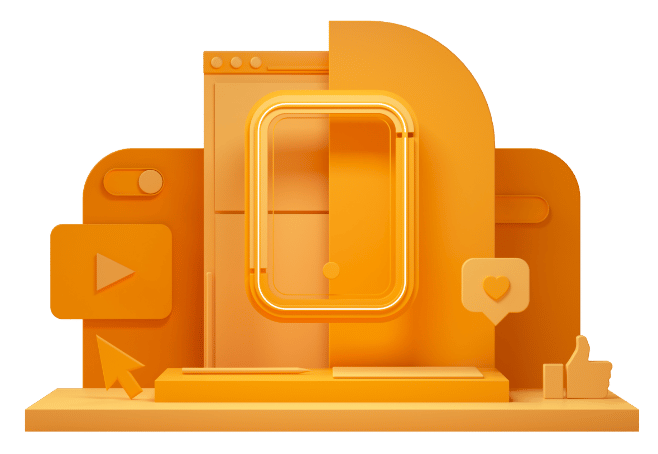 CAN'T FIND THE RIGHT OPPORTUNITY?
If you can't see what you're looking for right now, send us your CV anyway – we're always getting fresh new roles through the door.