MARKETING MANAGER
UP TO £52,000
HYBRID - CENTRAL LONDON
THE COMPANY
This modern Insights Agency/Consultancy is currently undergoing a huge period of growth, and as a result, they are looking for a Marketing Manager to focus on the B2B campaigns.
THE ROLE
As a Marketing Manager, you can expect to be involved in the following:
Developing and executing strategic marketing plans for the business
Writing up content plans for the business, looking at what the website should include
Working closely with agency partners who are more hands-on
Communicate with the client services team to gather insights on how campaigns are landing with their audiences
Leading on initiatives and initially working in a stand-alone role
Regularly communicating with senior stakeholders
YOUR SKILLS AND EXPERIENCE
The ability to work autonomously.
Mentorship/management experience is needed
B2B agency experience is ideal but not mandatory
Exposure to SEO would be desirable
BENEFITS
Salary up to £52,000
Great opportunity for future leadership and development
Hybrid - 2 days a week in Central London office
Opportunity to work with some fantastic clients
How to apply
Express your interest by sending your cv to Theo via the apply link on this page

Why Should You Care About Data-Driven Marketing? | Harnham Recruitment post
Marketing has been undergoing a fundamental change for some time. Elite marketers have been rethinking and reiterating their strategies, using increasingly sophisticated data.  and this trend has been further accelerated by the pandemic.Consumer behaviour has changed significantly since the pandemic began. Between March and August 2020, 70 per cent of consumers tried new digital shopping channels. Such significant changes have rendered many existing data models invalid. Data-driven marketing offers new insights into consumer behaviour and can render huge impacts in refining and enhancing marketing strategies. So, why should you care about data-driven marketing? Offers better clarity about the target audience 67 per cent of lead marketers agree data-based decisions beat gut instinct. Data-driven marketing allows marketers to quickly filter through data and determine the most relevant and accurate action to take. With the right data, marketers can assess customer data to predict behaviours, identify buying patterns and spot emerging trends. Data-driven marketing can also reveal new channels and open up new avenues which organisations can use to engage with audiences and increase revenue. Increases revenue The last 18 months have been tough for businesses, yet through the use of data insight, marketing teams have been able to get ahead of emerging trends. Data-driven campaigns have pushed significant customer acquisition. Better insight into consumers and the channels they use enables organisations to improve their marketing strategy. Indeed, companies that deploy data-driven marketing are six times more likely to remain profitable year-over-year, and 78 per cent of organisations agree that data-driven marketing increases customer acquisition.PersonalisationIn the modern world, advertising is everywhere, and it is endless; consumers see it on their phone, their TV and even on their way to work. Without target advertising campaigns, organisations risk aggravating consumers. 74 per cent of customers already feel frustrated by seeing irrelevant content from brands. To stand out, marketing channels have become more complex. Marketers need to remain creative to capture consumers attention and data driven marketing can help achieve this.Data-driven marketing allows businesses to target specific demographics and user groups at an individual level. By targeting specific user groups at an individual level, marketers are able to use personalised marketing campaigns to build stronger and more meaningful connections with potential customers.With individual customer information, brands can segment a target market and ensure personalised messages are falling into the right place. Data-driven marketing is also able to identify potential customer triggers and create a holistic view of the target audience. This style of personalised marketing campaign makes for a more positive customer experience, and therefore represents excellent return on investment.Data has the potential to become an incredibly valuable resource in marketing. Data soothes the pain points which many marketers face on a day-to-day basis, and help teams to refine, enhance and improve strategy. In a post-pandemic world, data-driven marketing will undoubtedly be essential. To stay competitive, internal marketing and insight teams need to start taking notice of data-driven marketing. Here at Harnham, we understand the importance of data-driven marketing to determined campaigns and guide decisions. So, if you're looking for your next opportunity or to build your Marketing & Insights team, we can help. Take a look at our latest marketing and insights jobs or get in touch with one of our expert consultants to find out more.  

Why Marketing Teams Need to Fill Their Data Skills Gaps
Data can be leveraged in a myriad of ways and be beneficial to numerous business functions.
In marketing, for example, data is playing an increasingly important role in helping brands get closer to their target customers, which ultimately improves the bottom line. Businesses that use data-driven marketing strategies have five times more ROI than those that don't.
Despite this potential, a new survey has revealed that data analytics is one of the biggest skills gaps in marketing departments. Below, we break down this new research and explain why it's crucial to fill your company's data skills gap and build a data-driven marketing team.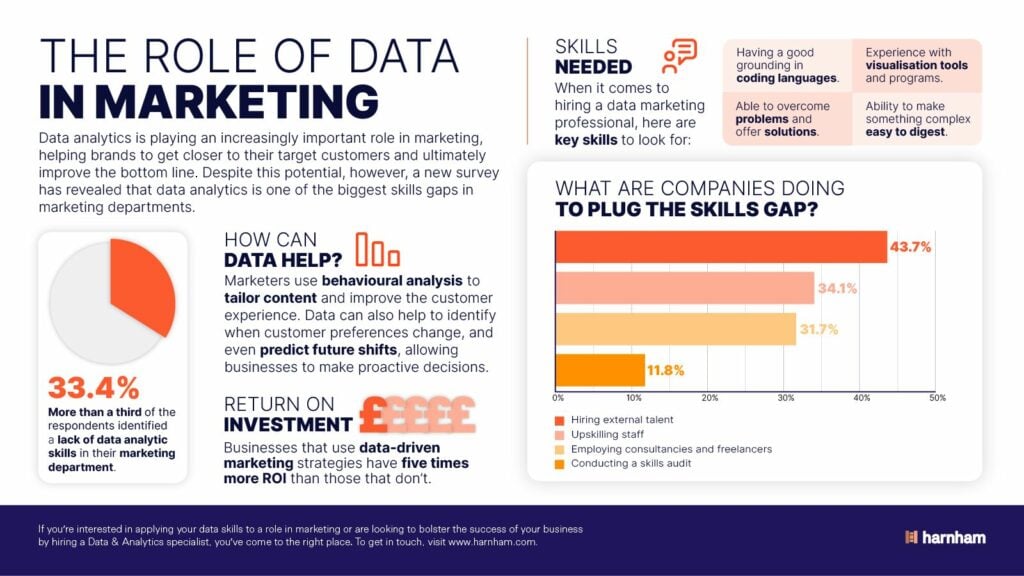 So why does this skills gap matter?
The recent research revealed more than a third (34.4%) of the 3,000-plus respondents identified a lack of data analytic skills in their marketing department. For B2B marketers, the figure drops to 29.9 per cent, while it's 34.6 per cent for B2C marketers, and jumps to 39.6 per cent for businesses with a mix of both.
These findings are particularly pertinent as marketing isn't a department that operates within a bubble, rather it has its tendrils in every part of an organisation, so when marketing isn't functioning as optimally as possible, neither is the business.
Businesses that are not harnessing the insights that data analysis offers, are missing out on the ability to understand and meet their customer's preferences. Making decisions that are not grounded in data means that a business is operating in the dark – throwing ideas at the wall to see what sticks rather than already knowing what will work because the data has told them so.
Many companies have realised that it's no longer good enough to guess what customers might want or need from a product or service, but to instead have hard evidence to back up these choices. A data-led marketing strategy can revolutionise marketing efforts in numerous ways such as:
Behaviour analysis and personalisation
By analysing a customer's behaviour, such as their e-commerce and website browsing habits, marketers can ensure that the businesses' landing pages, calls to action and other marketing tools are working as they should be, and use this data to better tailor content and improve the customer experience.
Behaviour analysis might include examining customer interactions, such as where and when they click on a website, even down to which pages consumers are lingering on for longer. The content you are producing might be incredibly insightful and smart, but that's irrelevant if customers aren't reading it. Once you have understood where people do and don't spend time and which content attracts the most engagement, assets can be shaped to scoop up people who might otherwise leave a site, further entice already interested parties and inform other marketing activities.
For example, if you're a business that sells clothes, you can use data analytics to determine which colours and styles are most popular among your customers and create content such as fashion tips or trend reports including these colours and styles.
Through monitoring the current behaviour of customers, businesses can also more easily identify when and how their preferences change. For example, if visitors to written pieces are dropping off, you could consider incorporating more video content. Reacting to the subtle changes in customer behaviour can help companies to maintain their position in the market and increase their revenue by tapping into new pools of customers.
Predicting customer patterns
But data isn't just for making better in-the-moment decisions. It can also help to pre-empt future customer behaviour, allowing businesses to make proactive decisions based on previous trends, rather than acting reactively.
Predictive analytics is the use of data algorithms and techniques to define the likelihood of future events or results, based on historical data from customer habits. It allows marketers to forecast a customer's "next move", such as which consumers are most likely to buy again, and therefore prioritise customers.
Based on previous patterns of behaviour, businesses can predict website engagement points where, for example, a customer may convert, but also areas where consumers might lose interest or drop off – friction points such as filling in a form. This information enables businesses to make choices that ensure that the customer experience is as smooth and effective as possible.
How can this skills gap be filled? 
The effectiveness of data analysis is dependent on talent being able to carry it out. At Harnham, we specialise in data hires for marketing. In other words, through experience, our consultants have built a comprehensive picture of what marketing teams need when it comes to data marketing talent. When it comes to hiring a data marketing professional there are a wealth of skills to look for, including:
Being a problem solver – a candidate who can identify logical ways to overcome problems and offer solutions.
Having a good grounding in coding languages such as SQL. Whilst it can be beneficial to have more advanced modelling skills using R or Python, some companies will have data science teams to support on this side.
Experience with visualisation tools and with programs such as Tableau or Looker – which can be hugely valuable in hitting the ground running.
Most crucial, however, is the ability to tell a story with the data and make something complex easy to digest. During an interview, businesses can identify how someone translates recommendations and if they are able to recognise and illustrate the commercial impact that their work will have.
If you're interested in applying your data skills to a role in marketing or are looking to bolster the success of your business by hiring a Data & Analytics specialist, you've come to the right place contact our team today.

Scary Early: Holiday Marketing & Analytics Long View Timing to Touchpoints
Halloween isn't just for kids anymore and marketers and retailers are taking note. Now, it's about the experiences, being together, and having a scary good time on a small scale.  Holiday shopping is happening earlier and it's just not in the purview of Black Friday and Christmas shopping. Wondering what's changed and what the crystal ball may hold for future Halloween holiday Marketing & Analytics?
So, we reached out to some professionals in the retail and marketing industries asking for their take on the change in holiday shopping from Halloween onward. From early shopping to slowed spending against rising prices, as people cut back their holiday spending.
Marketing & Analytics Insights from the Field
"Now that the pandemic is considered over, people are ready to get back into the swing of normal holiday festivities. We're seeing a trend in early shopping this year, which is likely to stick around for the next year or two." says James Green, Owner, Cardboard Cutouts.
"The biggest game-changer we've noticed has been that this year, holiday-related searches are happening a lot sooner/further in advance than in previous years, showing that people are really excited to celebrate Halloween and the holidays this year.
Halloween searches started in July this year to really pick up steam, showing us people are really planning in advance." adds Laura Rike, Pinterest Coach at laurarike.com.
"Consumers are feeling the impact of rising prices as they prepare to shop for the upcoming holiday season – and this year's spooky fall festivities are no exception.
84.51°, the Cincinnati-based Data powerhouse that helps Kroger and its partners create customer-centric shopper journeys, has captured consumer insights that show many people are looking to cut back on Halloween festivities this year, especially in these particular areas:
Halloween décor (41%)
Candy (33%)
Costumes (24%)
Food for gatherings (23%)
Beverages for gatherings (18%)
31% say they don't plan to celebrate Halloween at all.
But for those who are, here's how they're planning to spend the night:
Staying home and handing out candy (33%)
Going trick or treating in their neighbourhood (22%)
Going to a trick or treating event (school, church, zoo, shopping area) (16%)
Going to a Halloween party (16%)
Going trick or treating in someone else's neighbourhood (12%)"
Halloween Marketing Has Shifted from Candy Grabs to Experiences
"In the past, Halloween was primarily about buying products such as costumes and candy. However, now, many marketers are focused on creating unique and memorable experiences for their customers. This can be seen in the rise of Halloween-themed events, activities, and attractions. By creating an immersive and exciting experience, marketers can capture the attention of potential customers and stand out from the competition." says Brandon Wilkes, Marketing Manager @ The Big Phone Store.
So, this year and coming years may be just the beginning for the hospitality industry to level up their experiential offerings.
According to Ajitesh Agarwal, Associate Director, Marketing, Knowledge Excel social media has played a pivotal role in the evolution of Halloween marketing. Below are some trends to watch.
"In 2022, consumers in the United States are expected to spend an all-time high of $10.6 billion for the Halloween season, according to Statista. Hotels want in on the action and many have created special packages designed to entice Halloween enthusiasts to their properties. Hotels across the country are offering tea parties with a haunted twist, featuring exclusive spooky bar & food menu items. Follow up on these unique venues across the country, from a Mad Hatter-Esque underground bar in Downtown Los Angeles and an exquisite grand ballroom in San Diego to a wickedly enchanting tearoom in Atlanta."
Three Analytics Trends for 2022 and Beyond
The way we do business has changed irrevocably, and everyone is adapting. Customers have a variety of touchpoints and channels to choose from when they make purchasing decisions, and that means marketers must shift, too. There's a lot to juggle now and navigating the long view from timing to touchpoints can be daunting.
Here are three trends to watch:
Decentralized Customer Engagement
Podcasts, streamed media and more offer a host of new opportunities to engage new and diverse demographics to reach more customers. Widening the reach can give Analysts additional insights into what customers most want and where they want to find it.
Time to Rethink, Refresh, and Reboot Your SEO
SEO platforms are increasing their Analytics features and considering searching on other social media platforms such as Pinterest and Instagram.
Diversity Initiatives Attract and Retain Analytic Talent
Analytic insights are drawn from a variety of industries. It's important to consider as job seekers shift into the tech talent pool and realize what insights they can offer from their unique experiences.
Looking for top talent to take your business to the next level when it comes to Data and Analytics? Contact one of our expert consultants to learn more about finding and retaining top talent in the industry.
If you're interested in Advanced Analytics, Big Data, Business Intelligence, and more, Harnham may have a role for you.
Check out our latest Advanced Analytics jobs or contact one of our expert consultants to learn more:
For our West Coast Team, contact us at (415) 614 – 4999 or send an email to sanfraninfo@harnham.com.
For our Arizona Team, contact us at (602) 562 7011 or send an email to phoenixinfo@harnham.com.
For our Mid-West and East Coast teams contact us at (212) 796-6070 or send an email to newyorkinfo@harnham.com.
Quotes have been edited for content and clarity.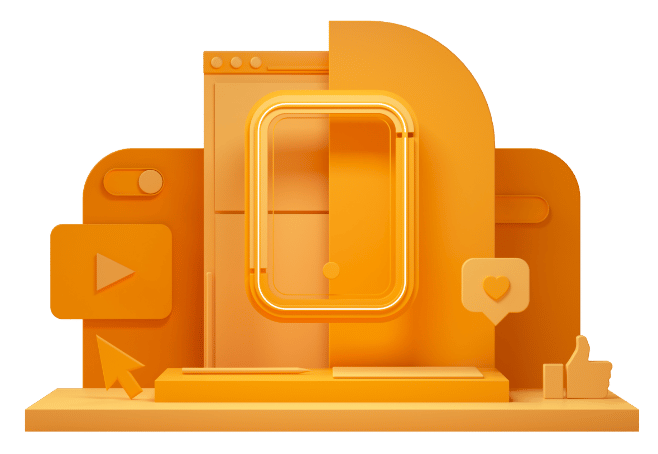 CAN'T FIND THE RIGHT OPPORTUNITY?
If you can't see what you're looking for right now, send us your CV anyway – we're always getting fresh new roles through the door.