Tunbridge Wells, Kent / £90000 - £120000
GLOBAL HEAD OF MARKETING
UP TO £120,000
HYBRID - TUNBRIDGE WELLS - 2 DAYS IN THE OFFICE PER WEEK
THE COMPANY
This health insurance provider is growing massively at the moment and wants to improve their marketing in order to achieve market differentiation!
THE ROLE
As a Global Head of Marketing, you can expect to be involved in the following:
Lead the strategy for the company
Manage a team of product and propostion specialists
Drive business growth
Lead the development of the company's brand strategy and positioning
Take responsibility for internal and external comms including PR, media, advertising and content
Drive acquisition marketing campaigns and lead teams that will be delivering insights and customer segmentation
YOUR SKILLS AND EXPERIENCE
Expertise in Digital Marketing and other marketing disciplines
Experience working with high-end clients/customers is ideal
Knowledge of marketing in large and smaller businesses is a plus
Experience in fast-growing organisations is a plus
BENEFITS
Salary up to £120,000
Great opportunity to work for a market leader
Opportunity to build out a team
Hybrid working - 2 days a week in the office
How to apply
Express your interest by sending your cv to Tristan via the apply link on this page

Why Should You Care About Data-Driven Marketing? | Harnham Recruitment post
Marketing has been undergoing a fundamental change for some time. Elite marketers have been rethinking and reiterating their strategies, using increasingly sophisticated data.  and this trend has been further accelerated by the pandemic.Consumer behaviour has changed significantly since the pandemic began. Between March and August 2020, 70 per cent of consumers tried new digital shopping channels. Such significant changes have rendered many existing data models invalid. Data-driven marketing offers new insights into consumer behaviour and can render huge impacts in refining and enhancing marketing strategies. So, why should you care about data-driven marketing? Offers better clarity about the target audience 67 per cent of lead marketers agree data-based decisions beat gut instinct. Data-driven marketing allows marketers to quickly filter through data and determine the most relevant and accurate action to take. With the right data, marketers can assess customer data to predict behaviours, identify buying patterns and spot emerging trends. Data-driven marketing can also reveal new channels and open up new avenues which organisations can use to engage with audiences and increase revenue. Increases revenue The last 18 months have been tough for businesses, yet through the use of data insight, marketing teams have been able to get ahead of emerging trends. Data-driven campaigns have pushed significant customer acquisition. Better insight into consumers and the channels they use enables organisations to improve their marketing strategy. Indeed, companies that deploy data-driven marketing are six times more likely to remain profitable year-over-year, and 78 per cent of organisations agree that data-driven marketing increases customer acquisition.PersonalisationIn the modern world, advertising is everywhere, and it is endless; consumers see it on their phone, their TV and even on their way to work. Without target advertising campaigns, organisations risk aggravating consumers. 74 per cent of customers already feel frustrated by seeing irrelevant content from brands. To stand out, marketing channels have become more complex. Marketers need to remain creative to capture consumers attention and data driven marketing can help achieve this.Data-driven marketing allows businesses to target specific demographics and user groups at an individual level. By targeting specific user groups at an individual level, marketers are able to use personalised marketing campaigns to build stronger and more meaningful connections with potential customers.With individual customer information, brands can segment a target market and ensure personalised messages are falling into the right place. Data-driven marketing is also able to identify potential customer triggers and create a holistic view of the target audience. This style of personalised marketing campaign makes for a more positive customer experience, and therefore represents excellent return on investment.Data has the potential to become an incredibly valuable resource in marketing. Data soothes the pain points which many marketers face on a day-to-day basis, and help teams to refine, enhance and improve strategy. In a post-pandemic world, data-driven marketing will undoubtedly be essential. To stay competitive, internal marketing and insight teams need to start taking notice of data-driven marketing. Here at Harnham, we understand the importance of data-driven marketing to determined campaigns and guide decisions. So, if you're looking for your next opportunity or to build your Marketing & Insights team, we can help. Take a look at our latest marketing and insights jobs or get in touch with one of our expert consultants to find out more.  

Why Marketing Teams Need to Fill Their Data Skills Gaps
Data can be leveraged in a myriad of ways and be beneficial to numerous business functions.
In marketing, for example, data is playing an increasingly important role in helping brands get closer to their target customers, which ultimately improves the bottom line. Businesses that use data-driven marketing strategies have five times more ROI than those that don't.
Despite this potential, a new survey has revealed that data analytics is one of the biggest skills gaps in marketing departments. Below, we break down this new research and explain why it's crucial to fill your company's data skills gap and build a data-driven marketing team.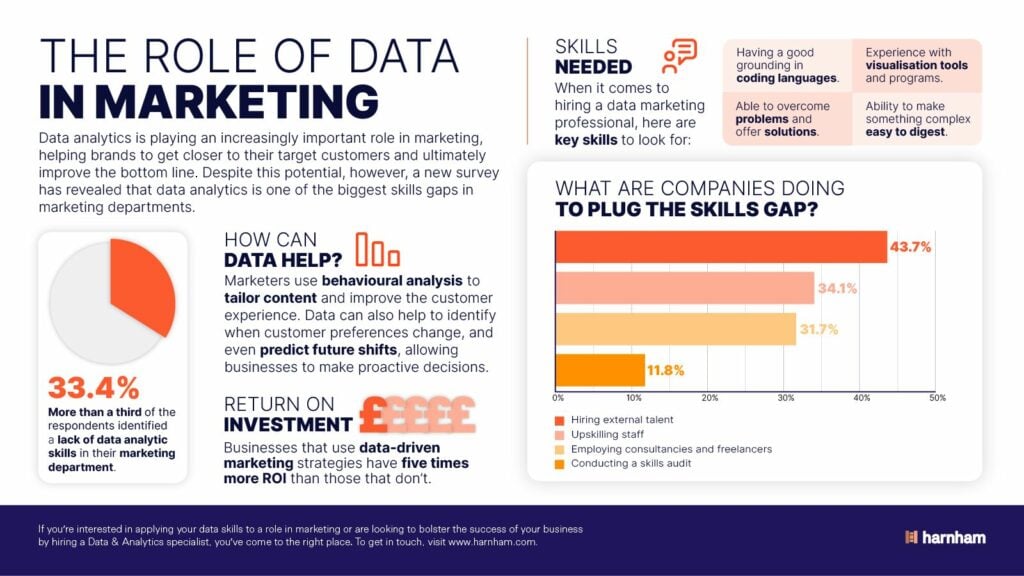 So why does this skills gap matter?
The recent research revealed more than a third (34.4%) of the 3,000-plus respondents identified a lack of data analytic skills in their marketing department. For B2B marketers, the figure drops to 29.9 per cent, while it's 34.6 per cent for B2C marketers, and jumps to 39.6 per cent for businesses with a mix of both.
These findings are particularly pertinent as marketing isn't a department that operates within a bubble, rather it has its tendrils in every part of an organisation, so when marketing isn't functioning as optimally as possible, neither is the business.
Businesses that are not harnessing the insights that data analysis offers, are missing out on the ability to understand and meet their customer's preferences. Making decisions that are not grounded in data means that a business is operating in the dark – throwing ideas at the wall to see what sticks rather than already knowing what will work because the data has told them so.
Many companies have realised that it's no longer good enough to guess what customers might want or need from a product or service, but to instead have hard evidence to back up these choices. A data-led marketing strategy can revolutionise marketing efforts in numerous ways such as:
Behaviour analysis and personalisation
By analysing a customer's behaviour, such as their e-commerce and website browsing habits, marketers can ensure that the businesses' landing pages, calls to action and other marketing tools are working as they should be, and use this data to better tailor content and improve the customer experience.
Behaviour analysis might include examining customer interactions, such as where and when they click on a website, even down to which pages consumers are lingering on for longer. The content you are producing might be incredibly insightful and smart, but that's irrelevant if customers aren't reading it. Once you have understood where people do and don't spend time and which content attracts the most engagement, assets can be shaped to scoop up people who might otherwise leave a site, further entice already interested parties and inform other marketing activities.
For example, if you're a business that sells clothes, you can use data analytics to determine which colours and styles are most popular among your customers and create content such as fashion tips or trend reports including these colours and styles.
Through monitoring the current behaviour of customers, businesses can also more easily identify when and how their preferences change. For example, if visitors to written pieces are dropping off, you could consider incorporating more video content. Reacting to the subtle changes in customer behaviour can help companies to maintain their position in the market and increase their revenue by tapping into new pools of customers.
Predicting customer patterns
But data isn't just for making better in-the-moment decisions. It can also help to pre-empt future customer behaviour, allowing businesses to make proactive decisions based on previous trends, rather than acting reactively.
Predictive analytics is the use of data algorithms and techniques to define the likelihood of future events or results, based on historical data from customer habits. It allows marketers to forecast a customer's "next move", such as which consumers are most likely to buy again, and therefore prioritise customers.
Based on previous patterns of behaviour, businesses can predict website engagement points where, for example, a customer may convert, but also areas where consumers might lose interest or drop off – friction points such as filling in a form. This information enables businesses to make choices that ensure that the customer experience is as smooth and effective as possible.
How can this skills gap be filled? 
The effectiveness of data analysis is dependent on talent being able to carry it out. At Harnham, we specialise in data hires for marketing. In other words, through experience, our consultants have built a comprehensive picture of what marketing teams need when it comes to data marketing talent. When it comes to hiring a data marketing professional there are a wealth of skills to look for, including:
Being a problem solver – a candidate who can identify logical ways to overcome problems and offer solutions.
Having a good grounding in coding languages such as SQL. Whilst it can be beneficial to have more advanced modelling skills using R or Python, some companies will have data science teams to support on this side.
Experience with visualisation tools and with programs such as Tableau or Looker – which can be hugely valuable in hitting the ground running.
Most crucial, however, is the ability to tell a story with the data and make something complex easy to digest. During an interview, businesses can identify how someone translates recommendations and if they are able to recognise and illustrate the commercial impact that their work will have.
If you're interested in applying your data skills to a role in marketing or are looking to bolster the success of your business by hiring a Data & Analytics specialist, you've come to the right place contact our team today.

Weekly News Digest: 18th – 22nd July 2022 | Harnham Recruitment post
This is Harnham's weekly news digest, the place to come for a quick breakdown of the week's top news stories from the world of Data & Analytics.
Inside Big Data: There's no AI in identity – yet how far has artificially intelligent identity management come in the past few years?
Artificial Intelligence (AI) has been, and always will be, an incredible tool for many different purposes, one of which is the power to change identity security and governance. It allows users to solve long-standing issues with controlling access and entitlements by automating the usually complicated process. However, to get the most out of these systems, there needs to be much more data available, more recognition of the benefits AI can have on identity management, and more skilled technical talent. For example volume of data.
Volume of data:
Massive volumes of data are required by both AI and ML systems in order to distinguish between normal and abnormal behaviour. The algorithms require a lot of data inputs to be trained and tested, and after they are approved and put into use, they require a steady stream of data to be correct.Specialisation: The choice of what data to include in an AI/ML project requires collaboration between a data scientist and specialists in identification, security, and other areas of your company. Insights may be limited if this degree of expertise is skipped.
Integrating identity organisation-wide:
Organisations can access a huge data warehouse with details about not just identity control by utilising a business platform.To read more about this, click here. Search Engine Land: Google launched three new ad creation tools Most global companies rely on Google for their paid advertising efforts and marketing initiatives – so Google is under pressure to continuously improve and expand its offerings. Google has recently announced the launch of three new ad creation tools for those businesses to utilise. These new tools should make the process of creating ads and collaborating with teams considerably simpler, according to Google. The new features will allow teams and advertisers to create and work together without having to leave the advertising platform.The first of the three new tools is the Asset Library, built to try and decrease asset storage and organisation challenges. Collaborative work with digital assets such as photos and videos is notoriously tedious – so Google created the new Asset Library where teams can upload, download and share assets from current and past campaigns on the visual-first database.
The second launch is a new feature Create video ads for the Ads Creative Studio. Users will  be able to quickly and conveniently create short video ads for YouTube with specific templates designed to help drive results. Finally, Google has reported that videos with voiceovers typically drive better performance. So, to support this Google has released a voice-over audio feature that is integrated into the video creation tool. Using speech-to-text technology accessible through the Asset Library, users can choose from seven voices and ten languages. To read more about this, click here. Wire 19: 6 ways IT leaders can tackle the growing software engineering skills shortageInstead of relying on outside vendors and contractors, IT companies are now putting more emphasis on training their in-house teams of software engineers and cloud architects. These teams are being trained internally to focus on developing custom digital software and products and services. For most businesses, this shift represents the ongoing skills shortages and challenges faced by the tech sector. Here are the six ways Deloitte says IT leaders can use to address the worsening skills gab to grow and equip their teams internally:Bridging the gap between academia and corporatesUpskilling existing employees and training new hires at the front endCreating more builders.
Designing curriculum around personas:
Understanding that just cloud certification is not enoughTalking about the importance of a mindset shift To read more about this, click here. Analytics Insight: Four tools to analyse affiliate marketing dataAffiliate marketing is a great technique if you're looking to broaden your digital marketing strategies. By leveraging other people's online efforts, you're able to direct people to your website and social media and monitor their actions through a unique link. Alongside online resources and training courses, it's helpful to familiarise yourself with the tools available to analyse the data you receive from affiliate marketing.Google Analytics is used to monitor the quality of traffic that is converting with specific ads by analysing the data. This allows you to delve into the demographics, geography and messaging used as well as gaining valuable knowledge of your site's views, sessions, and users. If you are using email marketing, Mailchimp is an effective tool for connecting with your clients and data analysis to create effective email marketing campaigns. Other useful tools such as safety and fraud detection platform, Forensiq, help to identify and ascertain different online behaviour that could potentially be fraudulent. Or if you're looking for more convenience in your marketing strategy, platforms like Hootsuite can be beneficial for scheduling social media posts and creating detailed reports for marketing trends and content. When it comes to producing leads for any product or website, affiliate marketing is key. Regardless of experience, the tools in this piece can help get you started on a successful affiliate marketing journey.
To read more about this, click here. We've loved seeing all the news from Data & Analytics in the past week, it's a market full of exciting and dynamic opportunities. To learn more about our work in this space, get in touch with us at info@harnham.com.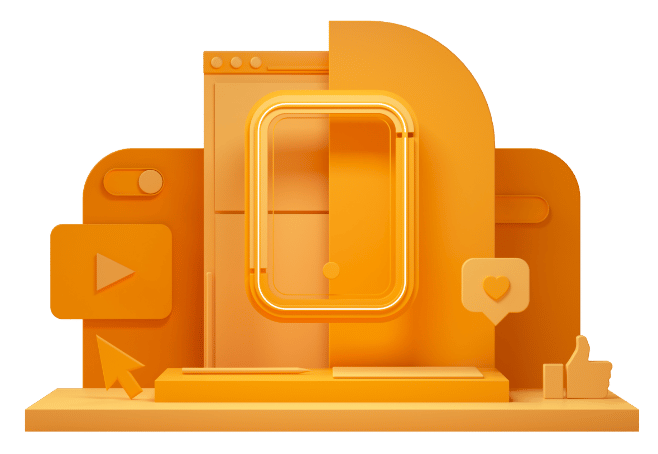 CAN'T FIND THE RIGHT OPPORTUNITY?
If you can't see what you're looking for right now, send us your CV anyway – we're always getting fresh new roles through the door.