Customer Research Manager
Birmingham, West Midlands / £45000 - £55000
Birmingham, West Midlands
RESEARCH MANAGER
BIRMINGHAM (hybrid)
£40,000 - £50,000 + benefits
Interested in being a part of a national organisation that's eager to grow and drive their insight function through quantitative research? Then this is a fantastic opportunity for you!
THE COMPANY:
This is a national brand within the travel sector, priding themselves on offering an excellent customer service. Their data team is innovative and eager to utilise the latest tech to hone their analytics on targeting their customers better. Now, they're eager to understand the quantitative and qualitative data to give a more detailed picture on the voice of their customers.
WHAT WILL YOU GET TO DO?
As the Research Manager, you will be focusing on understanding the customer voice, as well as:
Develop the customer research function, working with different senior stakeholders to understand the needs and requirements of the business
Build a panel of thousands of consumers, using this information to drive research into the customer voice
Use your skills in analytics as well as the wider data team to drive the use of data analysis in market research
Voicing insights to stakeholders to help them understand the customers that drive their business
WHAT WE'RE LOOKING FOR IN YOU
The successful candidate will have:
Strong experience in research methods, particularly quantitative, as well as evidence of working on consumer panels
Understanding of both qualitative and quantitative research methods
The ability to understand data and share key insights into drivers behind customers, their motivations
Great communication skills and the ability to convey a story through data
Confidence to work with various business stakeholders
WHAT'S IN IT FOR YOU?
£45,000 - £55,000 base salary DOE
Flexible hybrid working - 2 days a week in the central Birmingham office
The chance to own and develop a research function - you'll get to come in and thrive, then with the spotlight on your success, grow the team out further! You could have a team of 2 people under you after 6 months, so this is a great opportunity for growth and development opportunities, too.
HOW TO APPLY:
Please register your interest by sending your CV to Alanah Chambers via the Apply link on this page.
Please note, this role is only available to candidates with the right to work in the UK - the company is unable to provide sponsorship on this occasion.
This role not the one for you? I have roles across Marketing & Customer Insight all over the north and midlands of England, so please get in touch with me to discuss other roles I'm covering to find your perfect next step!

How To Use Data & Analytics In Market & Consumer Research | Harnham Recruitment post
As businesses continue to navigate the post-pandemic era, high inflation and heavy supply chain disruption, discovering useful information about target markets, consumer behaviour, and marketing efforts helps protect their market share, but also capture new markets. 
A January 2022 survey found that 86.4 percent of companies believe their Data & Analytics function has significantly improved since 2017, through the integration of advanced machine learning and artificial intelligence tools. And the number of businesses investing in Market Research as part of their Data & Analytics function grew rapidly at the end of 2021.
So, with this trend looking likely to continue, how can companies use sets of data to generate valuable business insights to help drive their business' performance?  Informed decision process Leaders and chief marketing officers (CMOs) are today able to incorporate big data into their decision-making process, by analysing user data in real time to produce actionable insights. They have moved on from offline data gathering solutions such as in-person surveys, focus group and engagement marketing (during events for example), to active online tracking of users' behaviours and opinions. Data & Analytics companies now provide business intelligence software for organisations that combine all data sources – a sort of one-stop-shop unique platform updated in real time. Identifying patterns and trends The data mining process, also known as knowledge discovery, allows companies to sift through vast volumes of data to look for patterns and trends. Knowing who your customer is, how they interact with your company and what their habits are all improve customer segmentation.
Tools used include location-based targeting and personalised communication and sales, to receive immediate real market feedback on aspects such as: do they value your product/service because of new features, functions or benefits? Where are they more likely to purchase it from? Predictions based on patterns and trends  Understanding how customers react to changes, campaigns and product launches, for instance, helps companies gain a competitive edge and ensure all actions undertaken are for the benefit of the customers they serve. Tools such as unique customer behaviour analytics platforms inform companies about whether customers are frequent purchasers or heavy shoppers, for example, and allow for marketing teams to tailor messaging based on their segment of interest.
While 82 percent of companies aspire to achieve a 360-degree view of their customer, only 14 percent today say they have achieved so. Gathering granular levels of information about customers through Data & Analytics will improve this ten-fold. Making customer-focused decisions  Better serving customers' ever-changing needs means greater customer satisfaction and retention. Through interactive dashboards, businesses can immediately access customer satisfaction data. Software can include statistics based on customer feedback, preferred communication channel(s) for customers contacting the business as well as critical factors such as average duration of time spent to solve a customer's issue.
With this real-time information under one cost-effective roof, businesses can both identify and solve issues as well as make faster customer-focused decisions and improvements as well measure previous efforts. If you are looking for your next Market or Consumer Research role, or to build out your team, we can help. Take a look at our latest Market Research jobs or get in touch with one of our expert consultants to find out more.

Why Marketing Teams Need to Fill Their Data Skills Gaps
Data can be leveraged in a myriad of ways and be beneficial to numerous business functions.
In marketing, for example, data is playing an increasingly important role in helping brands get closer to their target customers, which ultimately improves the bottom line. Businesses that use data-driven marketing strategies have five times more ROI than those that don't.
Despite this potential, a new survey has revealed that data analytics is one of the biggest skills gaps in marketing departments. Below, we break down this new research and explain why it's crucial to fill your company's data skills gap and build a data-driven marketing team.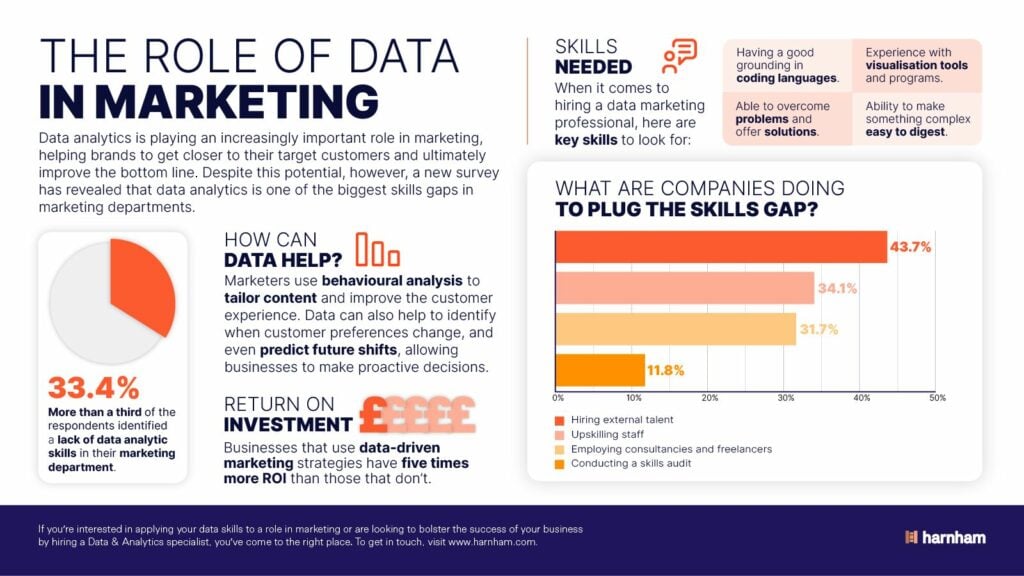 So why does this skills gap matter?
The recent research revealed more than a third (34.4%) of the 3,000-plus respondents identified a lack of data analytic skills in their marketing department. For B2B marketers, the figure drops to 29.9 per cent, while it's 34.6 per cent for B2C marketers, and jumps to 39.6 per cent for businesses with a mix of both.
These findings are particularly pertinent as marketing isn't a department that operates within a bubble, rather it has its tendrils in every part of an organisation, so when marketing isn't functioning as optimally as possible, neither is the business.
Businesses that are not harnessing the insights that data analysis offers, are missing out on the ability to understand and meet their customer's preferences. Making decisions that are not grounded in data means that a business is operating in the dark – throwing ideas at the wall to see what sticks rather than already knowing what will work because the data has told them so.
Many companies have realised that it's no longer good enough to guess what customers might want or need from a product or service, but to instead have hard evidence to back up these choices. A data-led marketing strategy can revolutionise marketing efforts in numerous ways such as:
Behaviour analysis and personalisation
By analysing a customer's behaviour, such as their e-commerce and website browsing habits, marketers can ensure that the businesses' landing pages, calls to action and other marketing tools are working as they should be, and use this data to better tailor content and improve the customer experience.
Behaviour analysis might include examining customer interactions, such as where and when they click on a website, even down to which pages consumers are lingering on for longer. The content you are producing might be incredibly insightful and smart, but that's irrelevant if customers aren't reading it. Once you have understood where people do and don't spend time and which content attracts the most engagement, assets can be shaped to scoop up people who might otherwise leave a site, further entice already interested parties and inform other marketing activities.
For example, if you're a business that sells clothes, you can use data analytics to determine which colours and styles are most popular among your customers and create content such as fashion tips or trend reports including these colours and styles.
Through monitoring the current behaviour of customers, businesses can also more easily identify when and how their preferences change. For example, if visitors to written pieces are dropping off, you could consider incorporating more video content. Reacting to the subtle changes in customer behaviour can help companies to maintain their position in the market and increase their revenue by tapping into new pools of customers.
Predicting customer patterns
But data isn't just for making better in-the-moment decisions. It can also help to pre-empt future customer behaviour, allowing businesses to make proactive decisions based on previous trends, rather than acting reactively.
Predictive analytics is the use of data algorithms and techniques to define the likelihood of future events or results, based on historical data from customer habits. It allows marketers to forecast a customer's "next move", such as which consumers are most likely to buy again, and therefore prioritise customers.
Based on previous patterns of behaviour, businesses can predict website engagement points where, for example, a customer may convert, but also areas where consumers might lose interest or drop off – friction points such as filling in a form. This information enables businesses to make choices that ensure that the customer experience is as smooth and effective as possible.
How can this skills gap be filled? 
The effectiveness of data analysis is dependent on talent being able to carry it out. At Harnham, we specialise in data hires for marketing. In other words, through experience, our consultants have built a comprehensive picture of what marketing teams need when it comes to data marketing talent. When it comes to hiring a data marketing professional there are a wealth of skills to look for, including:
Being a problem solver – a candidate who can identify logical ways to overcome problems and offer solutions.
Having a good grounding in coding languages such as SQL. Whilst it can be beneficial to have more advanced modelling skills using R or Python, some companies will have data science teams to support on this side.
Experience with visualisation tools and with programs such as Tableau or Looker – which can be hugely valuable in hitting the ground running.
Most crucial, however, is the ability to tell a story with the data and make something complex easy to digest. During an interview, businesses can identify how someone translates recommendations and if they are able to recognise and illustrate the commercial impact that their work will have.
If you're interested in applying your data skills to a role in marketing or are looking to bolster the success of your business by hiring a Data & Analytics specialist, you've come to the right place contact our team today.

Using Data & Analytics to Create the Next Generation of Customer Loyalty Programs | Harnham US Recruitment post
Coupons. Codes. Vouchers. Points. Miles. The list of customer loyalty programs and what they provide is ever-evolving. Or if it isn't, it should be. While travel and retail are the most well-known industries to offer these programs, other businesses such as healthcare and insurance are coming into the mix as well. Because while everyone knows the adage 'Know Your Customer', today, it means more than just their name and what they like to buy. It also means customer service, quality, and a reason to return.Though there are a host of technological advances to help businesses track their customers' buying journey, behavioral habits, and collect their Data, there is one old-school advertisement to consider. Word-of-Mouth. Consider what and how we review products and services. It's the digital version of word-of-mouth (read: reviews), Data can transform your customer loyalty programs, if you have the right strategy in place.The Next Generation of Loyalty ProgramsIf you're just entering the market and want to design your first loyalty program, here are two questions you'll want to ask yourself before you begin:Why do you want to design a customer loyalty program? If you just want to do what everyone else is doing, it won't work. If you can't clearly explain why you want to launch, then you're not yet ready. Once you can identify the business purpose or objective, then you can think about next steps.How do you define success? What will you use to measure your objectives? Here's where Advanced Analytics really come into play as you determine which customers you want to target, decide what you want them to do, and ensure your program is flexible enough to grow as your business grows as well as consistent with your messaging across brand channels.Whether emerging or evolving, your business may want to design or relaunch customer loyalty programs. If you're relaunching because your loyalty program isn't driving business. Ask yourself why. Options abound in today's marketplace and the noise of places to buy products is only getting bigger. How you stand out from the rest will be a major driver in the years to come.What Customers WantIn establishing and developing new loyalty programs, it's essential to begin with the end in mind, and the most important question to drive engagement is this: What do your customers want? Consider these statistics when planning your program, hiring your staff, and developing quality products and services to ensure your customers return again and again. After all, it's much easier to retain a customer than to acquire a new one.So, while you may know your customer at the surface level and perhaps even a bit deeper through their behaviors and buying habits, Predictive Analytics can also help improve your loyalty program offerings. How? By helping you refine your program to better understand your customers.Want to know what drives your high-value customers? Use Predictive Analytics to determine what you want them to do by understanding your analytics of their buying behaviors and customer journey. You don't want to give away too much, but you also want to provide value in your offerings and your customer service.Customer loyalty programs are as much about service and product as they are about word-of-mouth and retention. When someone recommends your product on one of their social media channels, they are acting as ambassador for your brand. These are your most loyal customers and what your program will look like in 2022 and in the years to come.If you're interested in Digital Analytics, Advanced Analytics, or Data Science just to name a few, Harnham may have a role for you. Check out our latest Advanced Analytics jobs or contact one of our expert consultants to learn more.  For our West Coast Team, contact us at (415) 614 – 4999 or send an email to sanfraninfo@harnham.com. For our Arizona Team, contact us at (602) 562 7011 or send an email to phoenixinfo@harnham.com.  For our Mid-West and East Coast teams contact us at (212) 796-6070 or send an email to newyorkinfo@harnham.com.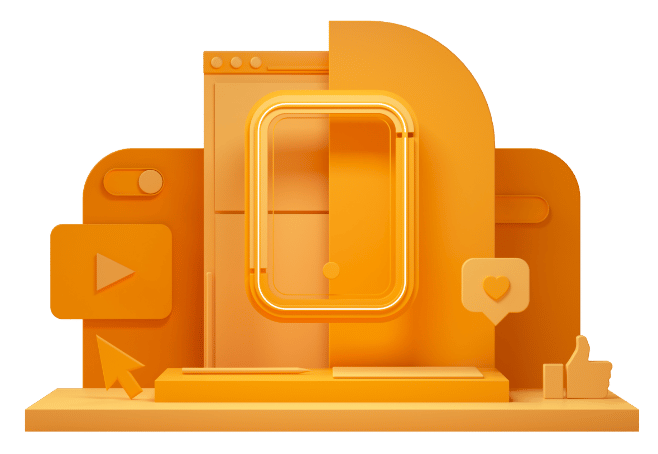 CAN'T FIND THE RIGHT OPPORTUNITY?
If you can't see what you're looking for right now, send us your CV anyway – we're always getting fresh new roles through the door.